Where better to bring in your 2022 New Year than the most magical place in the world? On New Year's Eve, Disneyland® Paris hosts an all-out celebration where you can become part of the fairy tale magic!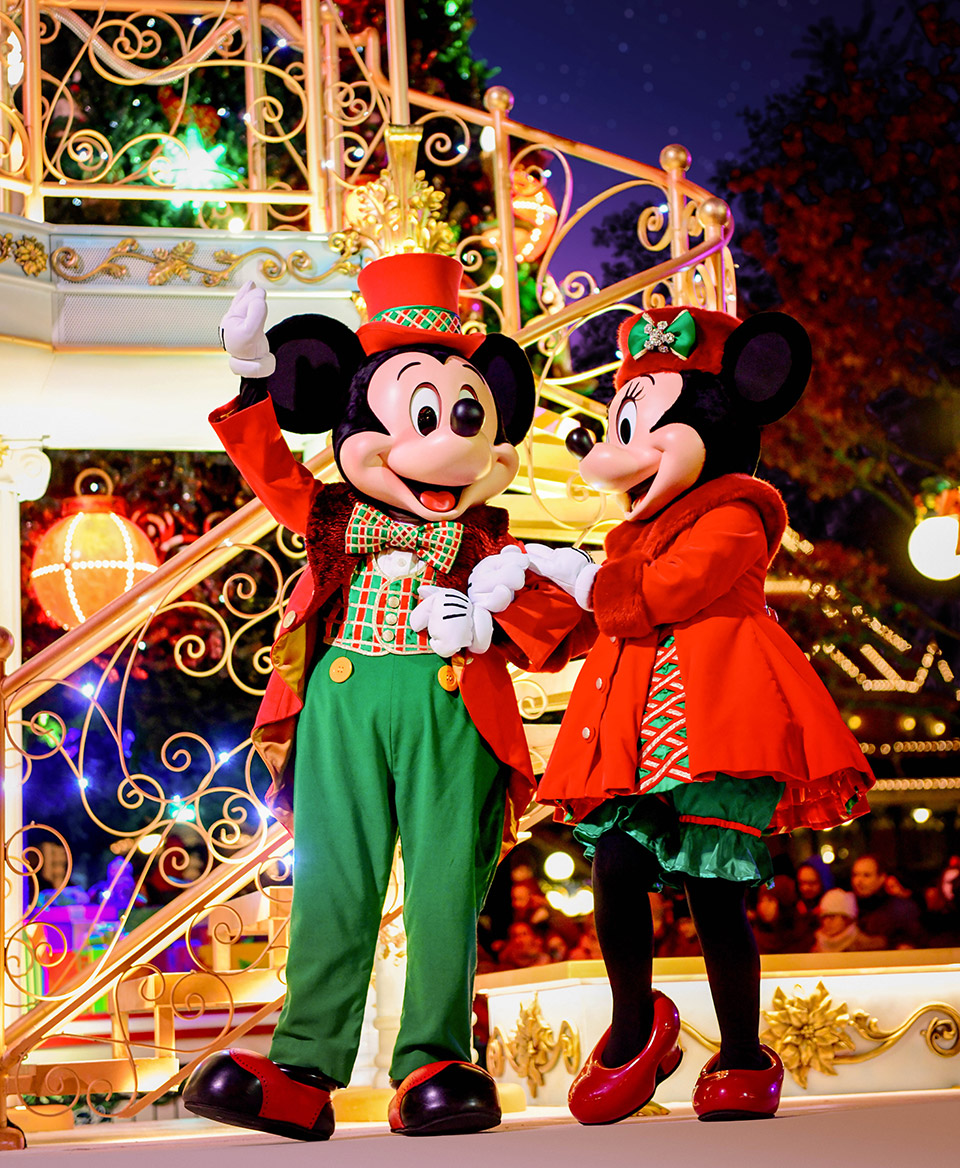 With more than a million Christmas lights throughout the Resort, there is no other place more magical, more family friendly and more fun to spend the New Year. Mingle with the many other excited revellers and experience the Yuletide festivities as Main Street, U.S.A®, is magically transformed into a winter wonderland of snowy streets, illuminated with shimmering street lamps.
On New Year's Eve the Disneyland® Park* hosts an all-out unforgettable celebration, climaxing with a magnificent fireworks extravaganza above Sleeping Beauty's Castle, the Park's dazzling centrepiece, to welcome in the New Year. This year, Disneyland Paris will offer you an enhanced experience on 31 December - New Year's Eve - including extended opening hours and special moments, rather than standalone ticketed events as they have in previous years.
On New Year's Day, you will be spoilt for choice! Spend an optional second day at Disneyland® Paris, or join our optional late morning transfers that will take you into Paris centre. Spend the day as you wish seeing the wonders of Paris, or add the optional River Seine Cruise, to explore the sights and attractions of this beautiful city from the river.
PLEASE NOTE... that the 2022 New Year celebrations at Disneyland Paris have not yet been announced the this information is just to give you an idea of what might happen, based on previous years. As soon as Disneyland Paris annouces the specific event details, we will update this webpage.
Your Holiday Itinerary
Day One (Journey to Paris) - Relax as we journey to France, arriving mid-evening.
Day Two (Disney) New Year's Eve - After a leisurely breakfast, we transfer to Disneyland® Paris for a full day of fun. A return transfer will take you back to the Hotel at 1am.
Day Three (Disney) New Year's Day - After a leisurely breakfast, the day is yours at leisure. Why not join our Paris transfers and optional boat tour down the River Seine. However, one day at Disney is often just not enough, so opt to return back and see the attractions you may have missed out on first time round.
Day Four (Journey Home) - After breakfast we begin our journey home. Time permitting, we visit a French hypermarket or wine/beer warehouse.
Your Hotel
You will stay for three nights at a hotel located in the Greater Paris area and within easy coaching distance of Disneyland® Paris. All hotels used have well-furnished en-suite bedrooms, as well as a bar and a restaurant where continental breakfast will be included on each morning of your stay.
Single supplement £109.00. Prices based on minimum 2 adults in a room. Rooms sleep maximum of 4 persons plus 1 infant. (subject to availability). Child prices subject to sharing a room with 2 adults. Child age is 3-11 inclusive
Click here for information on travel insurance and deposits.