Treat yourself to chocolate, beer or mussels (all famous in Belgium!) as we count down to the New Year. When it arrives, a spectacular firework display lights up the skies over the Atomium!
Bring in the New Year in one of the most beautiful city break destinations. New Year is when Brussels really lights up with fireworks, live music and other excited New Year's revellers. Not only will you see the amazing New Year display, but of course experience their specialities of chocolate, beer, mussels and all that's brilliant about Belgium.
When the spectacular firework display lights up the skies over the magnificent Esplanade of the Atomium, you will know you made the right choice in making Brussels your New Year's destination. Brussels also offers so much to do during the daytime: marvel at the stunning architecture, experience the shopping in the fashion district, sample their speciality Belgian beer and savour the delicious handmade chocolates. Plus make a visit to the atmospheric Winter Wonders festival and its 200 festive stalls.
On day three, we offer an optional excursion to the attractive port of Antwerp. Historically famous as the diamond capital of the world, it is now well known for its fashion academy and influences in Avant-Garde. It is believed that the natives of Antwerp are the happiest people on earth, so you won't be short of a warm welcome there!
Finally, on the last day, we visit the medieval city of Bruges - known as the 'Venice of the North' because of its network of picturesque canals and bridges. Don't forget your cameras here, it really is a picture postcard place!
Your Holiday Itinerary
Day One (Journey to Brussels) - Begin your journey departing from one of our coach pick up points heading towards the channel crossing. Sit back and relax as we head to the hotel for the evening, getting some well needed rest for the unforgettable day ahead.
Day Two (Brussels - New Year's Eve) - After breakfast we include a coach transfer into centre. Here you can experience the magic of Brussels with daytime offerings of shopping, food and architecture. You will really see Brussels at its best. During the evening we will transfer you to the Esplanade of the Atomium as it transforms for the grand New Year celebrations. A return transfer to the hotel will be at 1am.
Day Three (Antwerp - New Year's Day) - After your American breakfast, spend the day at your leisure! Enjoy the facilities of the hotel spa and pool, after a hectic New Year's Eve a spa day may just be what you need! Or choose to join our optional late morning excursion to Antwerp, where you can experience the historical delights of this diamond capital.
Day Four (Bruges/Home) - Depart from the hotel after breakfast, for an included short visit to the picturesque city of Bruges. With its tranquil waters and beautiful architecture, it wouldn't be a trip to Belgium without a visit here. From there you will then continue the journey home back to the U.K.
Your Hotel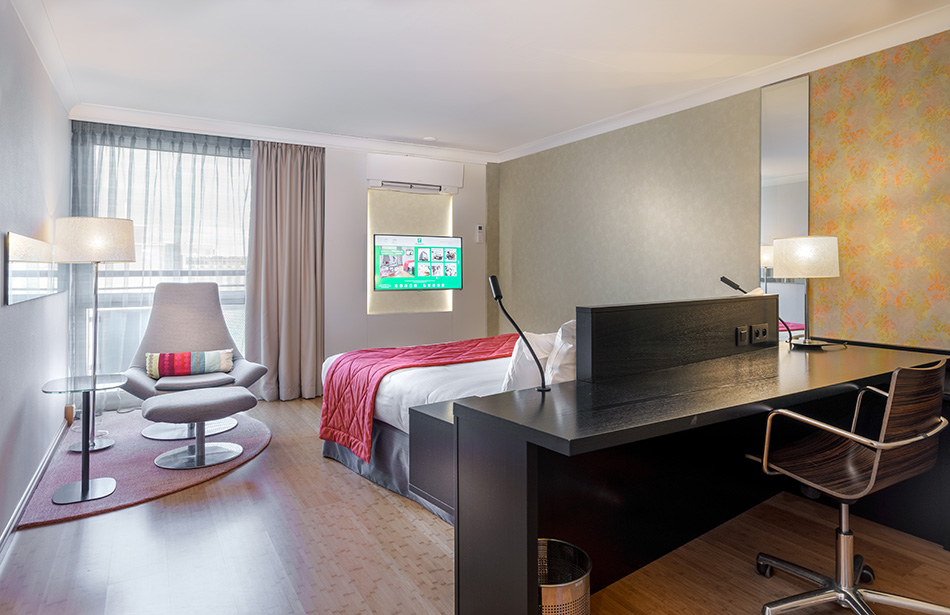 You will stay for three nights at the four-star Holiday Inn Brussels Airport, or similar. This customer-favourite boutique-style hotel offers en-suite facilities, a comfortable bar and a dining room where hot American breakfasts will be included throughout your stay, as well as a heated indoor pool and spa and fitness facilities.
Single supplement £. Child discount (under 12's) save £10.
We cannot accept responsibility for the cancellation of planned celebrations, for any reason, notably due to inclement weather conditions. Click here for information on travel insurance and deposits. Click here for information on travel insurance and deposits.